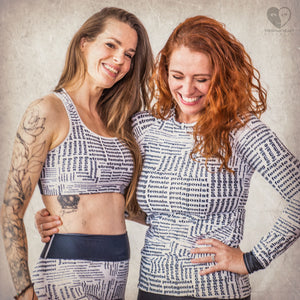 Strong Female Protagonist | Women's Rash Guard
CAN ONE BE STRONG & FEMALE? Why yes she can.  I present to you the Strong Female Protagonist collection  What is a protagonist? A pro·tag·o·nist 
is the leading character or one of the major characters in a drama, movie, novel, or other fictional text.   I'm all about bringing the Strong Female Protagonist to life. Throughout history our beautiful men have been praised for their triumphs, now I
 think it's time we admit how powerful, necessary, and brilliant many women are.
strong female lead shirt || gifts for female entrepreneurs
SIZE GUIDE  VIDEO FOR WOMEN'S RASH GUARDS:

Because there are millions of women who inspire me and rock my world, I won't list names, but here are some accomplishments: fought for civil rights, human rights & voting rights, founded the Red Cross, created thought-provoking art, flew across the ocean, produced TV shows, served in the House of Representatives, created the Martin Luther King national federal holiday, traveled to outer space, wrote novels, started foundations, won Marathons, won awards, formulated vaccines, earned Nobel Peace prizes,  became billionaires, broke glass ceilings.
long sleeve swim shirts
We celebrate these women for their bravery, tenacity, and fortitude in doing what women were previously not allowed to do, for changing the status quo. These days we have even more women revolutionaries who are changing the way we think in significant ways, from the beautiful caramel-skinned English princess who redefined what it means to be royalty, whose ethnic blood opens the eyes & imaginations of little girls everywhere. The brave & persecuted doctor who publicly #metoo a high-ranking badly-behaved official,  further opening the narrative of trauma and assault faced by millions of women. The American First Lady, who endured baseless criticism with class, beautifully instilling values of honor and dignity.  To titans in the athletic world who demonstrated that muscles & individuality were sexy, and talent takes insane amounts of work. To amazing boss artists who create television shows that we use to understand and investigate the world. 
gifts for athletes || gifts for actors
Aside from these exceptional feats women concur, we must also remember the domestic beauty many women
share
by raising
young humans, cleaning, & house management.  Hats off to the brave women who give birth, and special love to my own mother who is the epitome of greatness.
Christmas gifts for athletes
These days, women need to embody a strong sense of self-esteem and self-worth.  It is the time in history for women's voices to be heard, but what's most important, is each woman knows inside of herself, she is worth it.
Strong Female Protagonist
1. the leading character in a drama
2. the prominent figure in a situation
3. an advocate of a cause or idea
champion, fighter, crusader
gifts for the woman who wants nothing
STYLISH: & COMFORTABLE Don't be afraid to be your most active self in this smooth and versatile long-sleeve rash guard! It protects you from the sun, wind, and other elements while doing sports, and the slim fit, flat ergonomic seams, and the longer body gives extra comfort.
One can say "actor" in any language, but all actors speak a universal language. The universal language is emotion. We all understand it and we all speak it.⠀

SIZE CHART (inches): Need help with sizing? Contact Jamie Ann Burke directly CLICK HERE, she would love to help you personally.  
Bust = circumference around the widest part of the chest.
Hips = circumference around the widest part of hips.
Waist = circumference around the narrowest part of the waist.
motivational clothing brands
USES: Rashguards have many uses. Rash guards can be used as bathing suit 👙tops to cover arms in swimming pools and for protection from ocean waves, surfs up baby!  They are also used to protect skin from the harsh sun while gardening or playing outdoors.   Whether you are working out in the cold weather and want some extra warmth or the hot weather and want a sun shield, the rash guard is for you. Even if you don't want to be particularly active, you can wear your rash guard for lounging around the house, going to the grocery store, or taking a walk in the park. The meaningful, empowering & cute rashguards are the perfect gifts for women, best friend gifts, athletic teacher Christmas gifts, and gifts for women who want nothing.
LOOKS GREAT WITH: You can match head to toe with sports bra & legging combinations. Rashguards can also be paired with fun joggers or shorts.

POC owned clothing brands
SUPPORTING: Feel great about supporting a small, 🦸🏾‍♀️black-owned, 👠woman-owned, 🎨artist-owned business. xoxo.

CARE INSTRUCTIONS: All-over printed rash guards, sports bras, and leggings have a polyester & spandex blend. They can be machine-washed warm with like colors. Tumble-dried in medium heat. Don't use bleach while washing.
MATERIALS:
82% polyester, 18% spandex
38-40 UPF ( Ultraviolet Protection Factor)
Fitted design
Comfortable longer body and sleeves
Flatseam and coverstitch
Very soft four-way stretch fabric that stretches and recovers on the cross and lengthwise grains