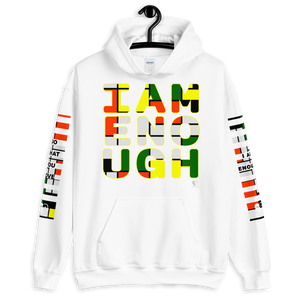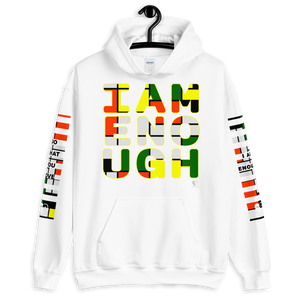 I Am Enough | Unisex Hoodie Sweatshirt
AM I ENOUGH? Do you ever have doubts running through your head? Is it possible to be a good actor, spouse, parent, artist, writer, doctor, entrepreneur, or humanitarian? Does what I say, think, and do even matter? Why bother at all? As someone who is plagued by negative thoughts, the summarizing question always is, "Am I Enough?"
 SIZE GUIDE VIDEO FOR HOODIES:
We foolishly believe that other people can live out our dreams, somehow (we often think) they were born with the intelligence, strength, connections, focus, drive that we lack.  At the same time, we minimize what we can do, often being afraid of a despairing comment from a non-supportive naysayer.  

SIZING CHART: Need help with sizing? Contact Jamie Ann Burke directly CLICK HERE. She would love to help you personally.
Length = highest point of the shoulder to the bottom hem of the shirt.
Width = across the bust 1-inch below the armhole, seam to seam.
SIZE EXAMPLE HOODIES:
Jamie wears size (M) Medium
5 feet 9 inches (175 cm) tall
chest circumference 35" (88.9 cm)
waist circumference 29" (73.9 cm)
hip circumference 40" (101cm)
Take chest circumference (i.e 35") and divide by 2 to get WIDTH = 17.5"
Remember sweatshirts are a little bigger than shirts so add 4-5 extra inches = 22 inches (approx.) = size medium
If Jamie wants a snug fit she can get a small, if she likes a really baggy fit she can get large. But since Jamie likes a relaxed fit, and she normally wears size 6, she got size medium.
ENOUGH: The English therapist Marissa Peers summed it beautifully.  "I Am Enough." We need to say this to ourselves, every hour, so often it becomes a habit and our reality.   In this world, it's easy to compare ourselves to others, but remember we are already enough, and keep focusing on self-love and self-improvement and going directly towards our dreams.
STYLISH: & COMFORTABLE:
These I Am Enough hoodies are comfortable apparel,  perfect casual wear for all humans, men & women, and non-binary. Made with soft, cozy fabrics, and perfect for a day running errands safely or lounging on the couch working from home.  
USES: 
Our hoodies make powerful gifts for conscientious & caring people who support the artistic creatives, entrepreneurs, and everyday humans.
LOOKS GREAT WITH: 
You can pair these beautiful hoodies with leggings, wear them over a t-shirt or with a fashionable fanny pack or tote bag.
SUPPORTING:
Feel great about supporting a small, black-owned, woman-owned, artist-owned business. xoxo 😍 thank you. 
MATERIALS: Everyone needs a go-to, cozy sweatshirt to curl up in, so go for one that's soft, smooth, and stylish. It's also perfect for cooler evenings!
50% cotton/50% polyester
Reduced pilling and softer air-jet spun yarn
Double-lined hood
1x1 athletic rib knit cuffs and waistband with spandex
Double-needle stitching throughout
Front pouch pocket