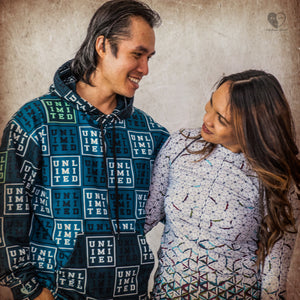 Choose Happiness | Women's Rash Guard
CAN WE CHOOSE HAPPINESS?  Modern culture has taught us to react to the outside world (or specifically the world on the television screen.) If someone on earth experiences a tragedy it is reported on the news for hours on a continuous loop, until our collective mood changes to sadness, anger, and depression. Now, I believe we need to empathize with our fellow man, but there has to be a cut-off point in our day, where we take back the day and make it a great day.  
 SIZE GUIDE  VIDEO FOR WOMEN'S RASH GUARDS:
We can choose (even for a minute) to appreciate the sun warming our skin, the birds chirping in spring, our hearts beating, a kind smile from a stranger.  These little moments take some effort to notice as our attention is usually taken hostage by the latest world gossip.  Nevertheless, with practice, I believe we can choose happiness, whether it's enjoying the laughter of our family, or a friendly hug, the sweetness of a crisp apple, or the smell of fresh-baked pizza.  There's so much for us to enjoy in the world.  When we make a habit of noticing the things that bring excitement, then we have chosen happiness.
STYLISH: & COMFORTABLE Don't be afraid to be your most active self in this smooth and versatile long-sleeve rash guard! It protects you from the sun, wind, and other elements while doing sports, and the slim fit, flat ergonomic seams, and the longer body gives extra comfort.
SIZE CHART (inches): Need help with sizing? Contact Jamie Ann Burke directly CLICK HERE, she would love to help you personally.  
Bust = circumference around the widest part of the chest.
Hips = circumference around the widest part of hips.
Waist = circumference around the narrowest part of the waist.
USES: Rashguards have many uses. Rash guards can be used as bathing suit 👙tops to cover arms in swimming pools and for protection from ocean waves, surfs up baby!  They are also used to protect skin from the harsh sun while gardening or playing outdoors.   Whether you are working out in the cold weather and want some extra warmth or the hot weather and want a sun shield, the rash guard is for you. Even if you don't want to be particularly active, you can wear your rash guard for lounging around the house, going to the grocery store, or taking a walk in the park. The meaningful, empowering & cute rashguards are the perfect gifts for women, best friend gifts, athletic teacher Christmas gifts, and gifts for women who want nothing.
LOOKS GREAT WITH: You can match head to toe with sports bra & legging combinations. Rashguards can also be paired with fun joggers or shorts.

SUPPORTING: Feel great about supporting a small, 🦸🏾‍♀️black-owned, 👠woman-owned, 🎨artist-owned business. xoxo.

MATERIALS:
82% polyester, 18% spandex
38-40 UPF
Fitted design
Comfortable longer body and sleeves
Flatseam and coverstitch
Very soft four-way stretch fabric that stretches and recovers on the cross and lengthwise grains